---
---
How Do I Pay Leave?
&nbsp
To process leave for an employee, go into the Pays section of the program and then click the Edit Pay button for the employee taking leave. In the Leave tab you can use the green plus button to add a new leave item, or the pencil icon to edit an existing leave entry. Simply select the type of leave you will be paying and alter the other values as necessary. The employee's ordinary time hours will be reduced by the amount of leave taken, to help prevent accidental overpayment.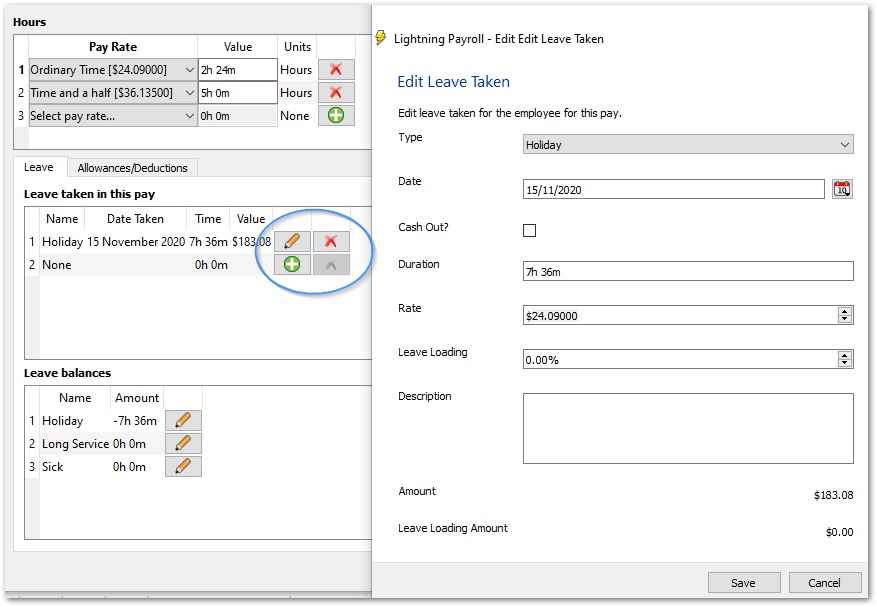 Paying out leave in advance

If an employee is going on leave, and you would like to pay them for all of that leave in the one pay period, tax calculations will need to be advised within the program. This can be done at the bottom of the the main Edit Pay window by spreading the tax calculations over multiple pay periods.

For example, if you pay weekly and you intend to pay the employee for two weeks leave that they'll be taking, in addition to the week they have just worked, the amount of pay periods you would need to enter would be 3.00 .
Employee is cashing out their leave

If an employee wants to be paid out some of their annual leave, or long service leave, without actually taking it, you can tick the 'Cash out' option when entering the leave in their pay. Do NOT spread tax for leave that is being cashed out.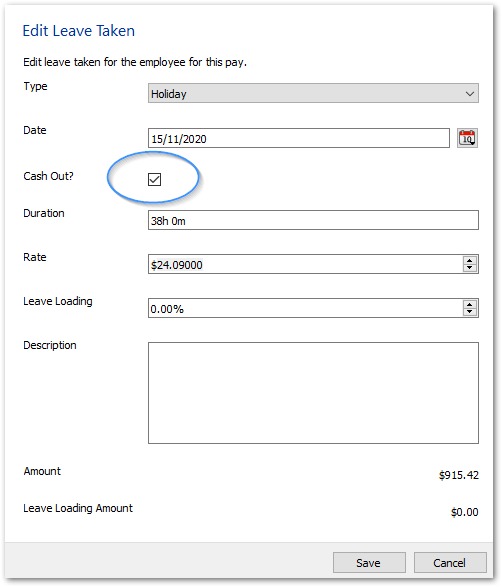 Created: 2019-03-26 23:50:13
Last Edited: 2022-04-07 10:38:08
---
Related FAQs