In our ongoing effort to provide you with comprehensive payroll solutions, we've integrated the ability to directly look up your employees' stapled super funds within Lightning Payroll. You can access this feature under the Company tab, specifically within a new subtab labelled ATO API.

This feature requires two-factor authentication (2FA) for added security. When you attempt to use it, a 2FA code will be generated and sent to your registered email address. You will then be asked to enter this code into the program to continue.


After you've successfully verified your identity through 2FA, the page will update. You'll notice a dropdown menu from which you can select the machine credential required for your request, as well as a field to input your keystore password. Conveniently, you can choose to save your password for future use. If you are acting as a third party or tax agent, simply select the respective tick boxes. When your details are ready, click the Register for ATO API Services button to register for the service.

Upon successful registration, a prompt will appear. Then, new fields will emerge, enabling you to search for selected employees' stapled super fund details. Once you've registered, you won't have to do it again. The next times you use this feature, you'll only need to verify your identity with 2FA.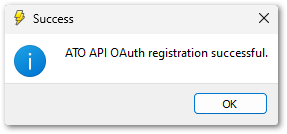 To proceed, select an employee and click on Stapled Super Fund Lookup. A prompt will appear, asking you to wait at least five minutes before clicking the Check for Responses button. This is to ensure that your request is processed properly.

The section below will then display the requests you've made for your selected employee, along with the details and responses associated with each request once retrieved. After the waiting period, check for responses. If your request was successful, you'll see a success prompt indicating that a response has been received, along with information on the details that were retrieved. This will also update the Responses column in the table for the respective employee.


If our system locates a valid USI, it retrieves all associated fund details from our server. These details are then automatically linked to the relevant employee, seamlessly incorporating their superannuation fund information directly into their employee profile.