Lightning Payroll can email payslips and payment summaries to your employees, so long as you've configured the SMTP (outgoing email) server settings found under Company >> Email.
Lightning Payroll acts as a basic email client which can log in to your email account. Each email provider (such as Bigpond, Optus, Google, Yahoo, etc.) has their own SMTP server settings which may change from time to time. The Lightning Payroll support team cannot provide these email server settings. Usually the settings for your particular email provider are easy to find if you search the internet using terms like "(provider name) outgoing email settings", or "(provider name) smtp settings".
E.g. "Telstra Bigpond smtp settings", or "iiNet outgoing email settings".

You can also search for commonly used email settings under Company >> Email >> Search for Settings. This will use a third-party email settings provider to gather the server settings for you.
Once you have entered your SMTP settings under Company >> Email please click Send a test email to determine that you have entered the settings correctly.
If you cannot find working SMTP settings for your particular email account, it may be worth considering an alternative email provider.
Gmail Complexities
If you are opting for Gmail as your email provider within Lightning Payroll, please be aware that it can be quite tricky to setup. This is due to Google Mail offering a high level of security configurability and as a result, there are many hoops to jump through.

The best way to use Gmail for SMTP in Lightning Payroll is by going to https://myaccount.google.com/security and activating 2-Step Verification. Once you have activated 2-Step, you can then create a Google App Password specifically for Lightning Payroll (Other - Custom Name). For more information on managing App Passwords in your Google account, see - https://support.google.com/accounts/answer/185833?hl=en .
Hotmail Complexities
On Feb 1st, 2022 Hotmail SMTP server settings changed to require the following SMTP server settings, that can be entered into Lightning Payroll under Company >> Email >> SMTP Server Settings.
The following settings seem to resolve the issue for many users (using your own email and password).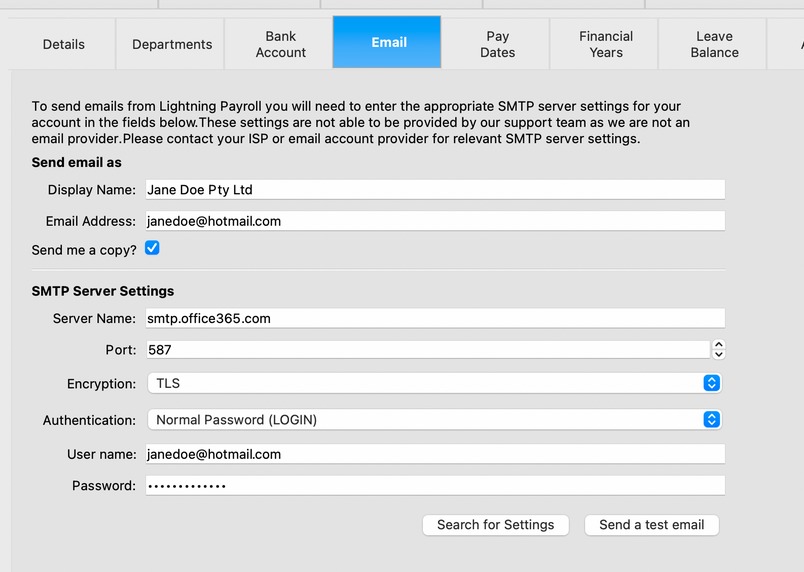 Please note: This email server is managed by Microsoft, not Lightning Payroll. We are passing this information on as a courtesy, and our support team is unable to assist with email troubleshooting as explained here.