---
---
How Can I Enter an Additional RESC/Super amount for EOFY?
&nbsp
If you need to make a one-off topup of RESC super for the end of financial year, this can be done two different ways. The difference being whether you are ready to pay the rest of June's compulsory super for those same employees, at the same time.
Method (A) - Paying all of June's super (guarantee and RESC together) before EOFY
Method (B) - Paying RESC only, before EOFY, and leave the normal super for later payment in the new financial year.
Method (A)
Simply edit the employee's last pay of the financial year under Pays >> Edit Pay/s.
Edit the super by clicking the Edit button beside the super total.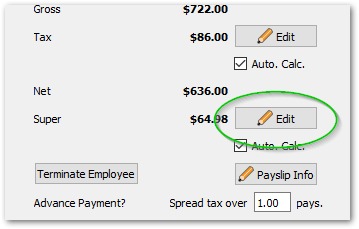 You can then enter additional RESC amounts by adding to the RESC amount field.
This amount will then be immediately available for payment in Super Fund Deposits and will also be reported through to the ATO in your next Single Touch Payroll lodgement.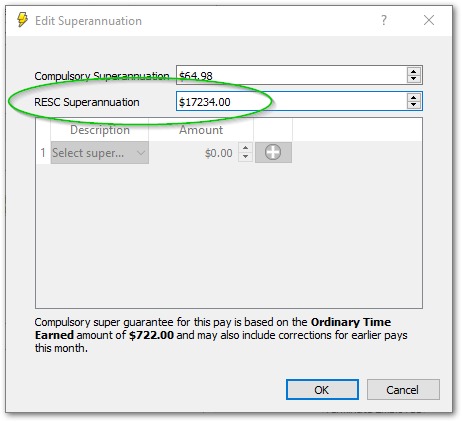 Method (B)
If you only want to pay the RESC before EOFY you can do it as follows:
Go to the final pay run within the financial year, in Pays.
Click Create Pays.
Select the employees you need to pay super for, and untick Create Full Pay? This will generate an additional, empty ($0.00) pay for the employees within the pay run for you to add RESC only to.

One-by-one, edit these empty pays, and like in the image above, click Edit beside Super and add the RESC amount.

If you use Lightning Payroll's Super Fund Deposits area to pay super, please continue reading, if not, you should pay the RESC amount using your usual method.
Using the pencil at the top of the Edit Pay window you should edit the processed date of the duplicate pay so that it differs from the processed date of the other pay for that employee. This is important due to the following step.

To pay the RESC, amount go into Super Fund Deposits and click Create Deposits. Set custom dates and aim the start and end date boxes at the edited date you entered in the previous step. Tick Use Processed Date if it is unticked. Only the RESC pays should be visible, since only they have the chosen processed date. Select all, click Create and follow the usual steps from there to Send Messages and gather payment information via the Direct Entry section.
Created: 2020-06-16 09:45:29
Last Edited: 2021-06-24 14:14:10
---
Related FAQs