Lightning Payroll includes a mobile Timeclock app for Android devices (Android version 4.4 and above) which can provide a way for you to precisely record when employees start and finish work. All hours and shifts recorded in the Lighting Payroll app can then be downloaded/synced with the Lightning Payroll Pays screen, filling out pays in seconds.
Please click here for related shifts and rosters information.
Download & Installation
The first thing you'll need to do is download the Lightning Payroll Android App on the Android device or devices you wish to use as a Lightning Payroll timeclock. To download the LP Timeclock, head over to the Google Play Store and follow the prompts to install the app. Updates will then be handled through Google Play.
Connect Your Android LP Timeclock to Lightning Payroll
When you open the Android LP Timeclock app for the first time it will ask you to enter your Lightning Payroll subscription details and to login. This will connect the Android device to your Lightning Payroll account. If you are unsure of your account login details, they can be found inside Lightning Payroll under Tools >> Licence Details.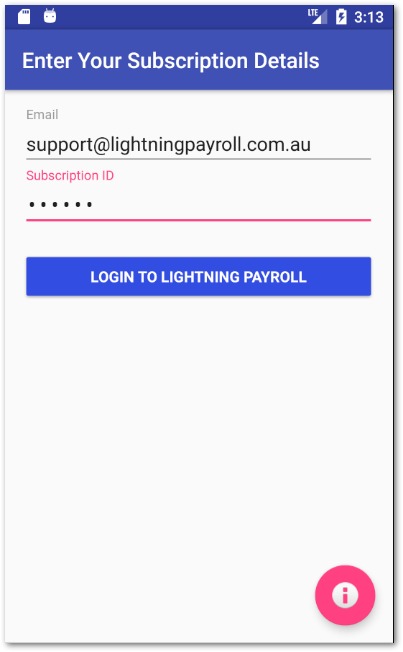 When you first login your device will show you the Not Authorised screen, since it still needs to be authorised from the other side, within your Lightning Payroll software. Once authorised you will be able to view company and employee data and begin clocking in and out of shifts.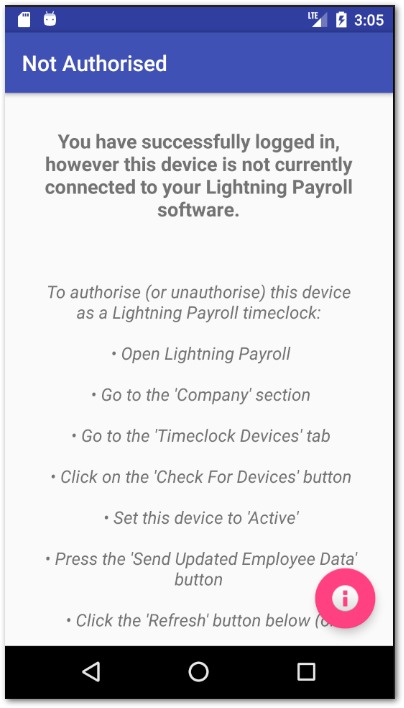 To authorise the Android device, open Lightning Payroll and go into Company >> Timeclock Devices and click Check For Devices.

The device will then appear, and allow you to give it a nickname for easy recognition and to set it to Active, confirming its connection to the company you are editing. To save the authorisation, click Send Updated Employee Data, and you should see a confirmation message.

To update the newly authorised Android device, click the info button at the bottom of the Not Authorised screen, then Home or restart the app.
Clocking In and Clocking Out
Now that the device has been connected to your Lightning Payroll software, you're ready to go. The LP Timeclock app has been designed to be used on any number of devices that you wish to connect to your company. Ideally it would be used on a single device for all employees to share, but it is flexible enough to be installed on each employee's device if it needs to be used off-site.
If you are using the device as a timeclock for more than one company, you will see a company selection screen by default. For most users however, only a single company will be connected to the device, so the employee selection screen will be the default home screen. To clock in, an employee just needs to tap their name and enter their timeclock pin.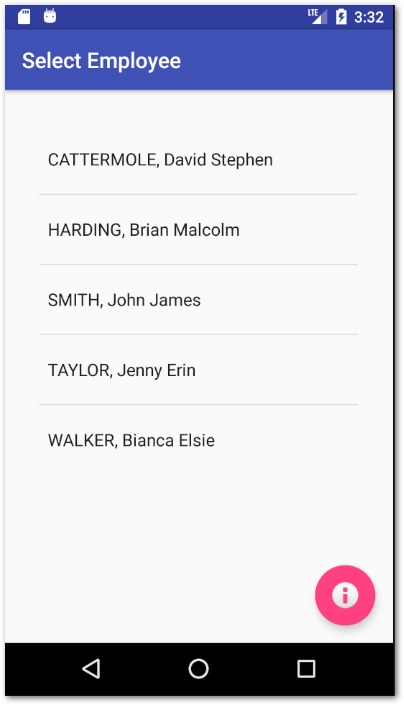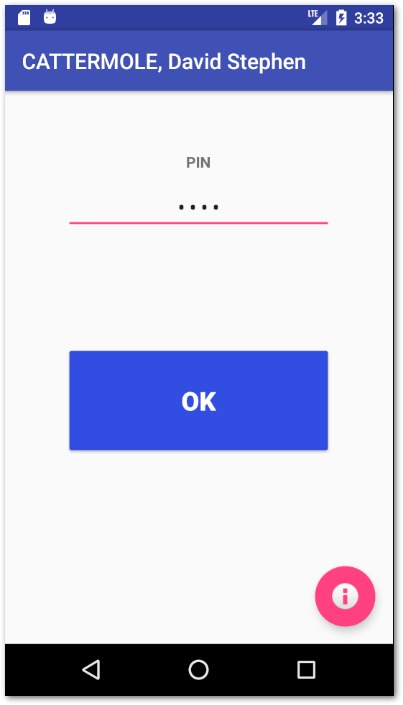 Their Timeclock PIN is a four digit number which is set to 1234 by default, but can be changed for each employee inside Lightning Payroll under Employees >> Details >> Timeclock Pin.
Note: If you make any changes to an employee, their shifts or their Timeclock Pin, you will need to go into Company >> Timeclock Devices and click Send Updated Employee Data to update the device. Restarting Lightning Payroll refreshes devices automatically.
Once the pin has been accepted, you will either a list of their shifts, or an error screen advising that they have no shifts set up yet.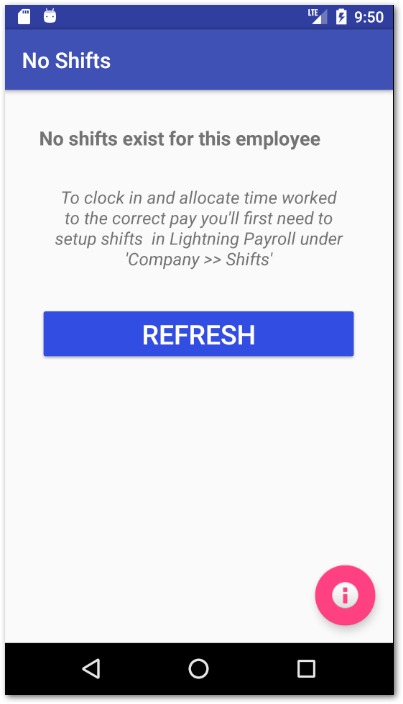 If no shifts are visible, then you will need to set them up in Lightning Payroll under Company >> Shifts as demonstrated in our related FAQ.
If all is well, their associated shifts will be shown. The employee can then select the appropriate shift that they'd like to clock into.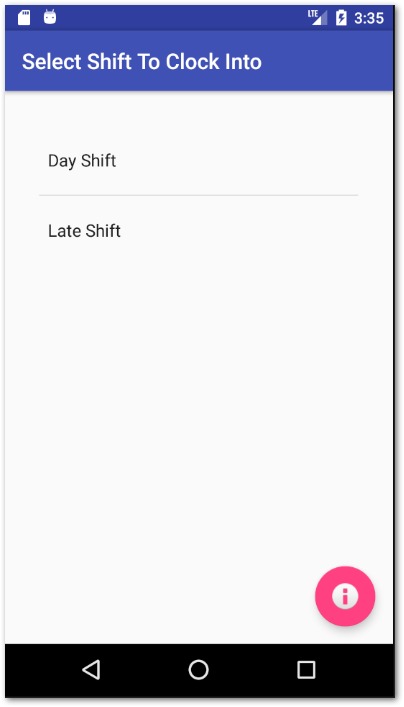 They'll then be instantly clocked in. Press OK to be returned to the beginning.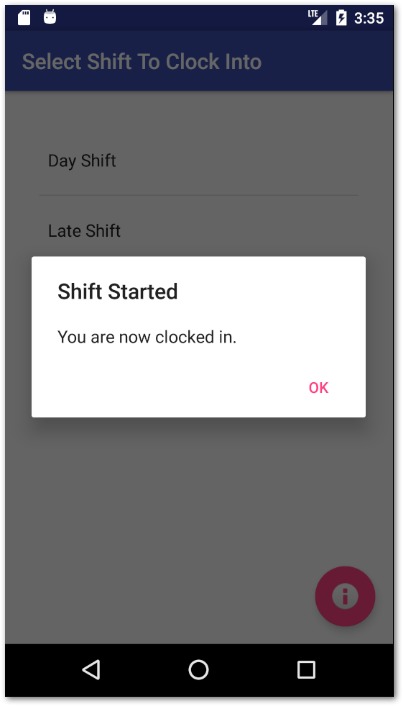 Clocking out is achieved by repeating the process. The employee must select their name from the list, and enter their four digit Timeclock PIN. They will then see the shift they are currently clocked into.
Press the Clock Out button to clock out.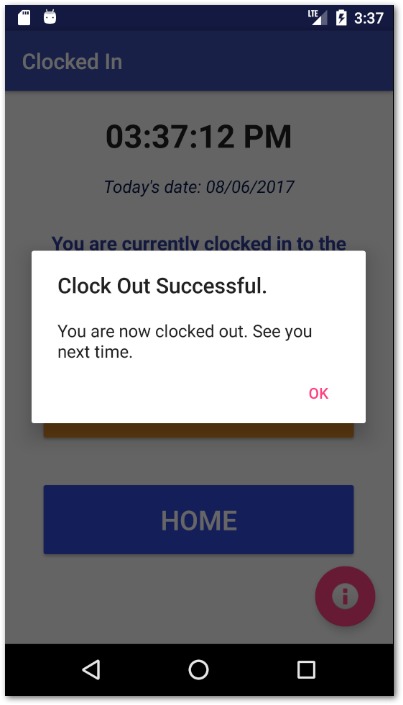 Importing Timeclock Data Into Your Payroll
The most important part of the process is the importing of the timeclock data into your pay run. This is done in Lightning Payroll under Pays, using the Timeclock Sync button.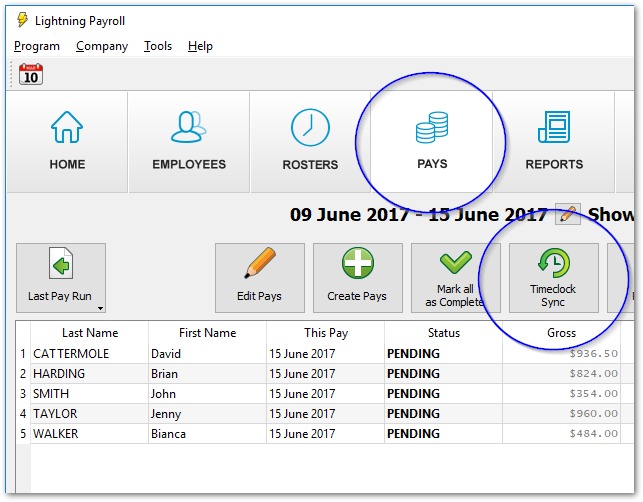 The Timeclock Sync window shows any completed timeclock shifts that are available for importing into the current pay run. You can set these shifts to round up, down or two the nearest minute, five minutes, etc. if you like.
The tickbox to Include Unrostered Shifts allows you to import shifts into your Pays without having to have those shifts pre-scheduled within the Rosters screen, as described in our related FAQ. Importing an unrostered, timeclock shift will automatically create a rostered shift which is what the Pays screen uses to gather worked hours, allowances, and pay rates from.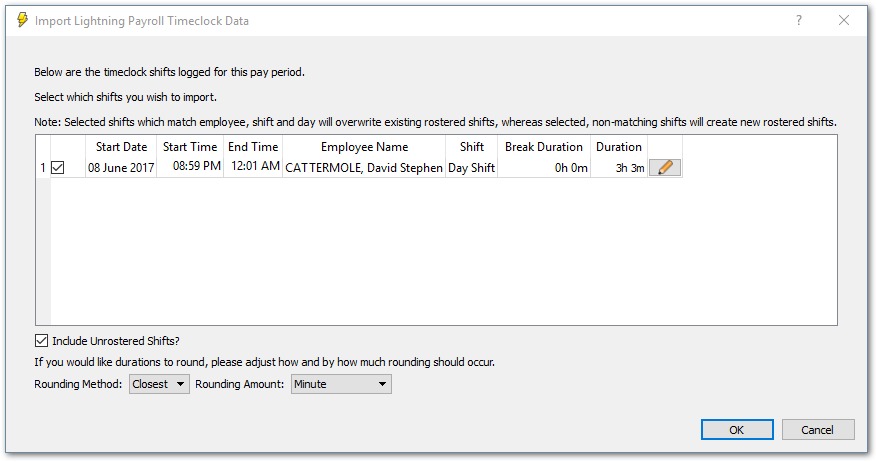 For raw timeclock information, including details on all shifts currently underway, there is a timeclock report. This report can be found under Reports >> Timeclock.