---
---
What Can I Do If I've Been Notified That Some of My Employees Are Not Tax Ready?
&nbsp
If you have received a notification from the ATO stating that one or more of your employees are not tax ready, you are able to easily rectify this through a Single Touch Payroll Update event.
This issue usually occurs because only a New event has been sent with the final pay for the financial year? option ticked, whereas the final pay for the financial year is recommended to be submitted twice (to avoid missing any inactive employees within that final pay run), as both a New, and then Update event from Single Touch Payroll. Sending a New event only includes figures for the employees listed on the particular pay run you're sending from, and will not report any figures for employees that have been terminated, or had their final pay on an earlier pay run in the financial year.
Fortunately, this can be easily fixed by navigating to the final pay run of the financial year in question (please note that this is the final pay run with a processed date in late June - pay run end date is insignificant) and sending an Update Event, ensuring that all employees are selected and that the tick box Final Pay for the financial year? is ticked.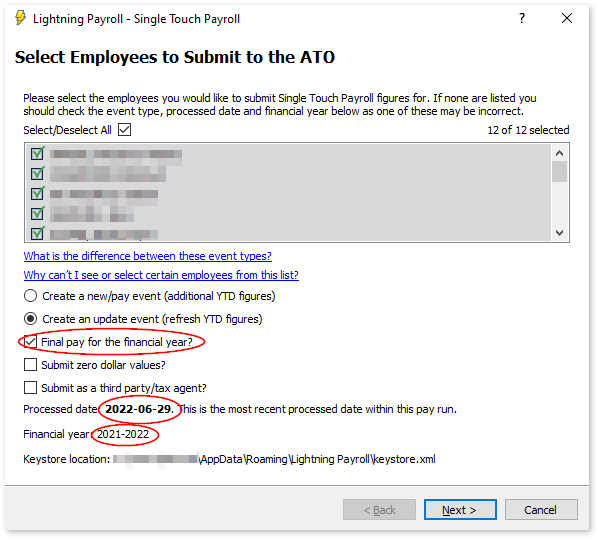 The program should automatically elect to send this as an Update event for you, and all employees should be auto-selected. If a New event is being auto-selected instead, this means that some employees in this pay run have not yet had their figures finalised through Single Touch Payroll for this particular financial year. The fix remains the same, however: resend Single Touch as both a New, and then Update event, both times having the Final pay for financial year? tick box ticked.
We always recommend sending both a New and then Update event for the final pay of a financial year (only the final pay - it is not necessary on your regular STP submissions) in order to ensure all employees are reported and finalised, regardless of whether they were paid and/or employed at the time of the final pay of the financial year in question.
Created: 2022-10-13 12:26:23
Last Edited: 2022-10-19 15:01:00
---
Related FAQs