---
---
What is the Difference Between a New Event and an Update Event?
&nbsp
There are two types of STP messages you can send from Lightning Payroll, a New Event and an Update Event.
A New Event is the most common submission type and is the recommended way to send Single Touch information to the ATO. It basically means you are submitting new pay information.
Update Events are most commonly used to submit amendments made to pay runs already lodged. They can also be used for submitting YTD figures for terminated staff who are not available for a New Event submission due to not being paid within the pay period being lodged.
New Events should not be regularly sent for pay runs processed/paid in the past. The ATO will allow past processed dates on new/pay events, but they discourage it.
If you send a new/pay event for a past pay date you will see this warning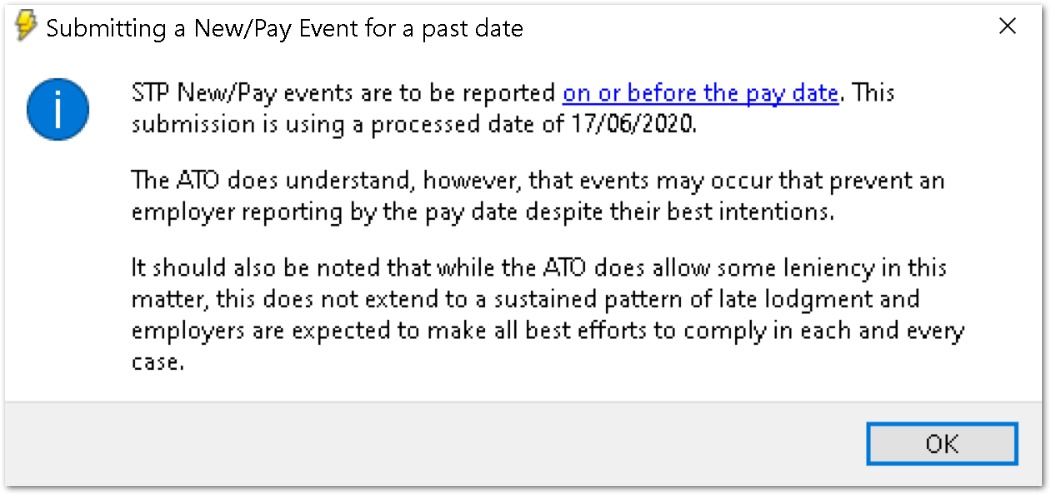 Update Events cannot be sent for pays processed/paid in the future.
Lightning Payroll collects YTD values using the pay processed/paid date, and lodges using the pay period's most recent processed date within the same financial year.
For more information on STP events and guidelines, see here.
Created: 2019-06-20 09:09:38
Last Edited: 2021-10-05 08:47:33
---
Related FAQs