---
---
Why Does The ATO Think I Have More JobKeeper Employees Than I Actually Do?
&nbsp
The most likely cause of this issue is usually terminated employees who were originally receiving JobKeeper.
This is a common issue and is due to a quirk in the way the ATO setup reporting the 'end' of claiming JobKeeper for an employee.
When an employee is terminated, or otherwise is no longer eligible for claiming Jobkeeper, a finish flag with the appropriate fortnight number is required to be sent off to the ATO indicating the first new fortnight in which that employee will NOT be receiving JobKeeper anymore.
The issue that arises is that the ATO do not allow payroll programs to report this finish flag until the next JobKeeper fortnight is reached. When an employee is terminated, you typically don't continue including them in single touch submissions because they have no new data to report. This means that the finish flag for the terminated employee remains unreported.
The easiest way to solve this is to firstly check that the JobKeeper eligibility end date is for the employee is set to when they finished employment. This can be checked in Employees > Tax Rates > JobKeeper Settings (make sure to tick 'show terminated employees' first).

Once the correct end date is set, all you'll need to do is send off an 'Update' event in single touch and select the employee in question when sending it off to the ATO.
Alternatively, if the employee was terminated in the previous financial year, navigate back to your last pay run of the 19/20 FY in June in the Pays menu and, in the last pay run in June, send off a final STP message once more for this terminated employee.
A finish flag beginning with JOBKEEPER-FINISH-FN should be reported on the bottom left of the employee's single touch preview.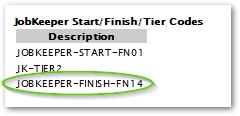 Resubmitting the employee through single touch will ensure their JobKeeper finish flag is now reported and that they no longer continue to show up as eligible on the ATO side.
Created: 2020-10-12 09:24:09
Last Edited: 2020-12-15 14:29:43
---
Related FAQs