Lightning Payroll has a built-in Online Backups feature which provides a way for you to easily save your important payroll data to the cloud. These online backups are encrypted and saved securely on our servers. In emergency situations this feature can help you to retrieve your data through your subscription.
Note: You will need a reliable internet connection, an active Lightning Payroll subscription and to have registered for this service for the feature to work correctly. See below for more information. This additional online backup service can be misused and needs to be used responsibly. We offer this as a handy extra feature and cannot guarantee the data will always be available, nor accept liability for user error or loss of your data. For this reason it is always a good idea to manage your backups yourself in addition to using this online backup feature. Please see this FAQ for more info.
To setup automatic online backups go to Tools >> Online Backups.
If you haven't yet set up online backups you will be asked to Register and create a password before you can continue. Passwords need to be at least eight characters in length, and for security reasons this password is not the same as your website and/or password application.
If you have already registered and need to connect another computer to your existing online backups you will be asked to
Login
and enter your password. If you have have forgotten your password, the
Login
screen contains a
Forgotten Password
area which can email through a password reset code to your nominated email address.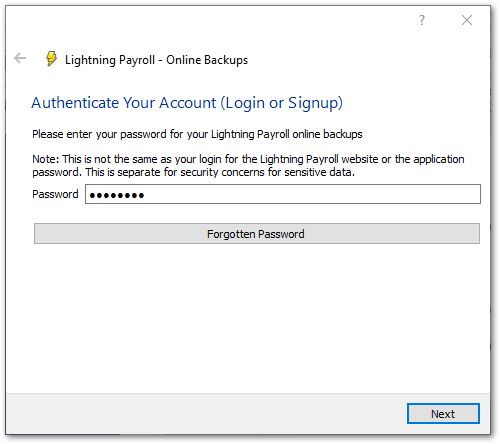 Once you're logged in to your Online Backups you can send a backup to our secure server to save the data currently in your program, or you can restore a previously created backup file to continue working on it. The Computer ID field is where you can add a description of the computer you're working on, or a description of the backup file you're creating. The image below shows how backups might be shared between an office computer and a laptop which share the same Lightning Payroll subscription. Only click Restore Backup if you wish to 'wind back the clock' and restore Lightning Payroll's data to an earlier point in time.
We recommend you tick the box to Automatically Backup. Also, do not click Logout unless you wish to disable the online backups. Just click Close.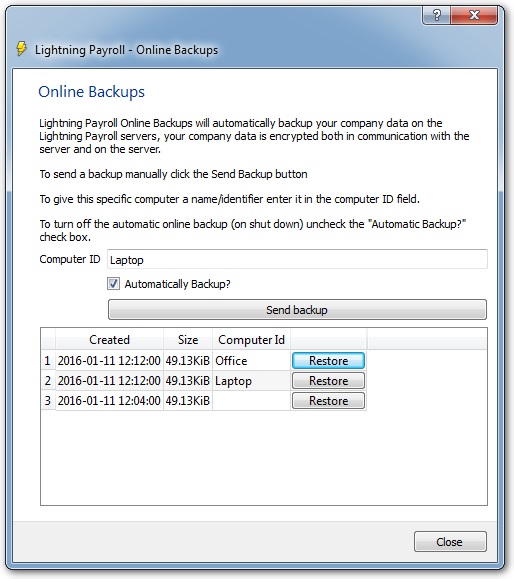 Note: There is a FIVE backup limit for each active Lightning Payroll subscription. Once the limit has been reached, any new backups will automatically overwrite the oldest existing backup.