---
---
Why Has Lightning Payroll been Quarantined by Anti-Virus?
&nbsp
Sometimes Lightning Payroll may be attacked or misclassified as spyware by your security software. This can happen and is known as a false positive.
We build and publish the program with the highest standard of code signing available. That's all that can be done from this end. Please ensure you keep your security software up to date. On occasion you may need to manually configure it and make an exception for Lightning Payroll to properly function.
If Lightning Payroll is mistakenly quarantined by AVG or Avast, you will see the below notification appear on your screen. Click 'Show Details' and then select 'Open Quarantine'.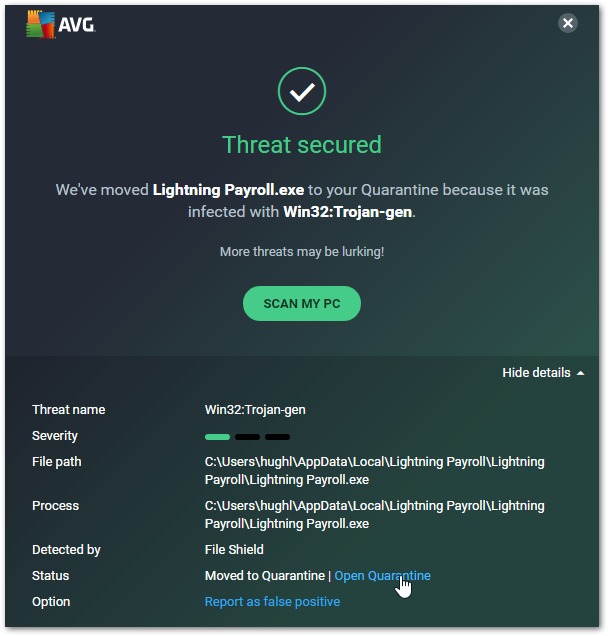 In the quarantine folder, select the files identified as Lightning Payroll (see circle) and then click 'Restore and Add Exception' on the bottom right.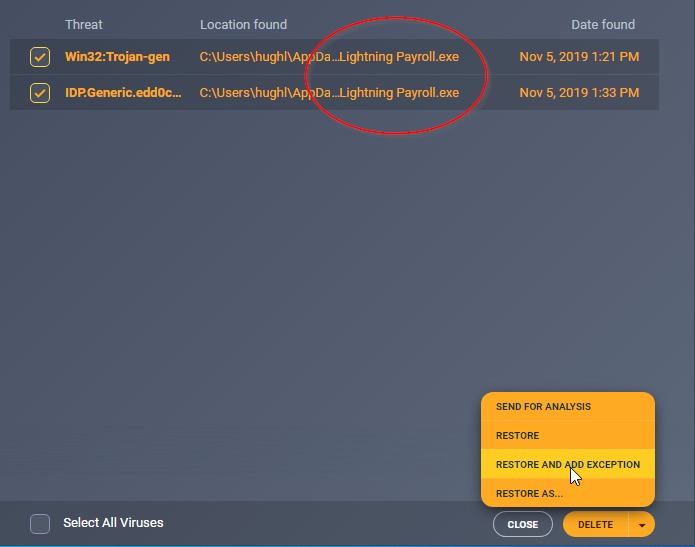 You will now be able to run Lightning Payroll. If the shortcut has disappeared from your Desktop, please go to 'Type hear to search' menu on the bottom left of your desktop and search for Lightning Payroll.
The Lightning Payroll app should show up under Best Match. Right click on the app and select 'pin to taskbar'.
You will then be able to run Lightning Payroll from the taskbar.
Created: 2019-11-05 14:34:00
Last Edited: 2021-12-09 13:46:57
---
Related FAQs